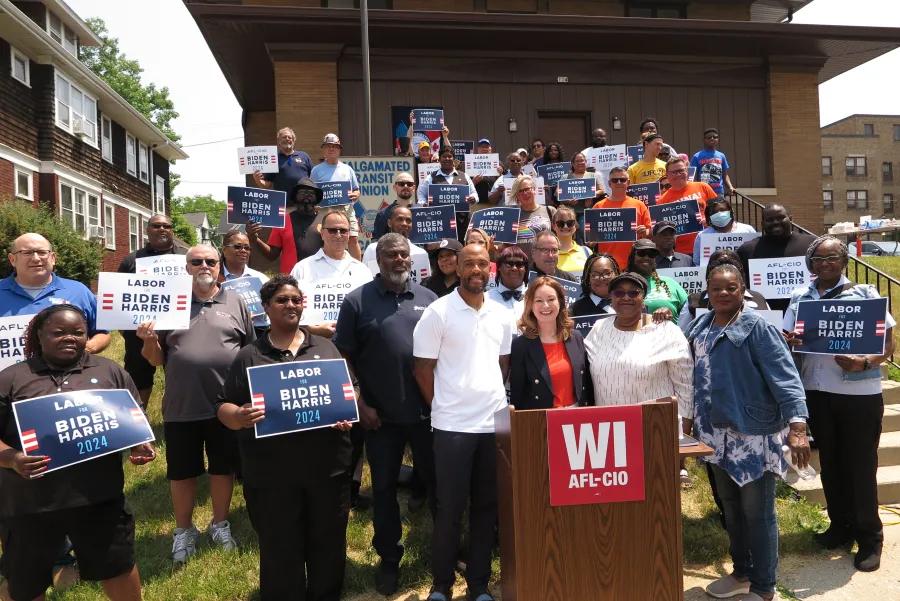 Union members gathered at ATU Local 998 union hall on Saturday to celebrate the AFL-CIO endorsement of President Joe Biden and Vice President Kamala Harris. Congresswoman Gwen Moore, Wisconsin AFL-CIO President Stephanie Bloomingdale, ATU Local 998 President Donnell Shorter, First Vice Chair of the Democratic Party of Wisconsin Felesia Martin, and Mandela Barnes 45th Lieutenant Governor of Wisconsin led a discussion on first-term, pro-worker accomplishments of the Biden-Harris Administration.
"Wisconsin union members are all in for Joe Biden and Kamala Harris in 2024. Time and again, President Biden has stood shoulder to shoulder with working people to tackle the most pressing challenges we face and create an economy that works for all of us," said Stephanie Bloomingdale, President of the Wisconsin AFL-CIO. "Above all, he has championed unions because he knows unions build and sustain our American middle class."
The event coincided with the earliest AFL-CIO Presidential endorsement in history and a historic union member rally with President Biden in Philadelphia.
"President Biden has invested in our public transportation networks that are needed for communities so people can get to work and where they need to go," said Donnell Shorter, President of ATU Local 998. "Once again, ATU Local 998 is proud to be Ridin' with Biden."
President Biden has delivered for working people by protecting pensions for more than 1 million workers, investing trillions in our infrastructure and lowering the cost of prescription drugs.
"The AFL-CIO's endorsement of Joe Biden and Kamala Harris for President and Vice President in 2024 is just the flame to light the path to victory," said Felesia Martin, First Vice Chair of the Democratic Party of Wisconsin. "The Democratic Party of Wisconsin is ready with our Triple-B Plan to re-elect Baldwin, Biden, and win Blue down Ballot! Let's build together in 2024!"
"The Biden-Harris Administration has created 13 million jobs, increased worker wages, and achieved the lowest unemployment rate in 50 years," said Congresswoman Gwen Moore. "Together, with the advocacy of the AFL-CIO, we've passed the Infrastructure Investment and Jobs Act, the CHIPS and Science Act, the American Rescue Plan and other pro-worker legislation to invest in our infrastructure, create jobs, strengthen workers' rights and protect retirements."
There's never been an election more critical to the future of working people. Worker organizing is happening at a pace not seen in decades, from coffee shops to tech to higher education to the manufacturing shop floor. The transition to a clean energy economy and historic federal investments in good jobs creates the opportunity to transform the economy for generations to come. This promise will only be realized if President Biden and Vice President Harris are re-elected to another four years.
"Like so many Wisconsinites, my story wouldn't have been possible without strong unions who paved the way for me," said Mandela Barnes, the 45th Lieutenant Governor of Wisconsin. "I'm proud to stand with President Biden and AFL-CIO in moving our state and our country forward."
Over the next 17 months, across the country and right here in Wisconsin, the labor movement will run its largest campaign ever to engage working people one on one on kitchen-table issues and President Biden's accomplishments. Union volunteers are the backbone of this mobilization and will begin engaging voters immediately.
To get involved with our WI AFL-CIO voter education and mobilization program click here.