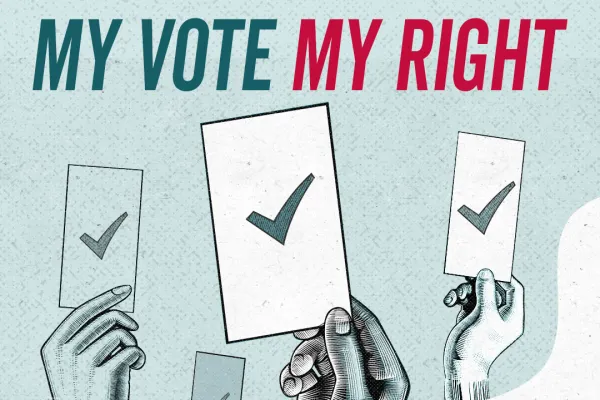 Wisconsin's Fall 2022 Election is Tuesday, November 8, 2022. On the ballot will be the Governor's race, a U.S. Senate seat, Lieutenant Governor, Attorney General, Secretary of State, Treasurer, and Wisconsin Senate and Assembly races.
View what's on your ballot at myvote.wi.gov.
Get involved with our member to member political mobilization program to talk with union members about the importance of voting for pro-union candidates at wisaflcio.org/mobilize and check back to this page for more endorsements.  
View the November Get out the Vote Labor 2022 schedule of volunteer opportunities here. 
Wisconsin AFL-CIO Fall 2022 Election Endorsements  
*indicates candidate is a union member 
Office
District
Endorsed
Candidate

Governor 

Statewide 

Tony 

Evers 

Lt Governor 

Statewide 

Sara

Rodriguez

Attorney General 

Statewide 

Josh 

Kaul 

Secretary of State

Statewide 

Doug

La Follette

Treasurer 

Statewide 

Aaron

Richardson

US Senate 

Statewide 

Mandela 

Barnes 

US House

1

Ann 

Roe 

US House

2

Mark 

Pocan* 

US House

3

Brad

Pfaff

US House

4

Gwen 

Moore 

US House

5

Mike

Van Someren

US House

7

Richard

Ausman

State Senate 

1

Andrea

Gage-Michaels

State Senate 

3

Tim

Carpenter

State Senate 

5

Jessica

Katzenmeyer

State Senate 

7

Chris

Larson

State Senate 

11

Steven

Doelder*

State Senate 

15

Mark

Spreitzer

State Senate 

17

Pat

Skogen

State Senate 

19

Kristin 

Alfheim 

State Senate 

25

Kelly

Westlund

State Senate 

27

Dianne

Hesselbein

State Senate 

29

Bob

Look

State Senate 

31

Jeff

Smith

State Assembly

1

Roberta

Thelen

State Assembly

2

Renee

Gasch

State Assembly

5

Joseph Patrick

Van Deurzen

State Assembly

6

William

Switalla

State Assembly

7

Daniel

Riemer

State Assembly

8

Sylvia

Ortiz-Velez

State Assembly

9

Marisabel

Cabrera

State Assembly

10

Darrin

Madison

State Assembly

11

Dora

Drake

State Assembly

12

LaKeshia

Myers*

State Assembly

13

Sarah

Harrison

State Assembly

14

Robyn

Vining

State Assembly

16

Kalan

Haywood

State Assembly

17

Supreme

Moore-Omokunde

State Assembly

18

Evan

Goyke

State Assembly

19

Ryan

Clancy

State Assembly

20

Christine

Sinicki

State Assembly

21

Nathan

Jurowski

State Assembly

22

Matt

Brown*

State Assembly

23

Deb

Andraca

State Assembly

24

Bob

Tatterson

State Assembly

26

Lisa

Salgado

State Assembly

27

Chet

Gerlach

State Assembly

28

Patty

Schachtner

State Assembly

29

Danielle

Johnson

State Assembly

30

Sarah

Yacoub

State Assembly

31

Brienne

Brown*

State Assembly

33

Don

Vruwink*

State Assembly

36

Ben

Murray

State Assembly

37

Maureen

McCarville

State Assembly

40

Henry

Fries

State Assembly

42

Theresa

Valencia*

State Assembly

43

Jenna

Jacobson

State Assembly

44

Sue

Conley

State Assembly

45

Clinton

Anderson

State Assembly

46

Melissa

Ratcliff

State Assembly

47

Jimmy

Anderson

State Assembly

48

Samba

Baldeh

State Assembly

50

Michael

Leuth

State Assembly

51

Leah

Spicer

State Assembly

52

Joe

Lavrenz

State Assembly

54

Lori

Palmeri

State Assembly

55

Stefanie

Holt

State Assembly

56

Patrick

Hayden

State Assembly

57

Lee

Snodgrass

State Assembly

60

Daniel

Larsen

State Assembly

61

Max

Winkels

State Assembly

62

Anthony

Hammes

State Assembly

64

Tip

McGuire

State Assembly

65

Tod

Ohnstad*

State Assembly

66

Greta

Neubauer

State Assembly

67

Jason

Bennett

State Assembly

68

Nate

Otto

State Assembly

69

Lisa

Boero

State Assembly

70

Remy

Gomez

State Assembly

71

Katrina

Shankland

State Assembly

72

Criste

Greening

State Assembly

73

Laura

Gapske

State Assembly

74

John

Adams

State Assembly

76

Francesca

Hong

State Assembly

77

Shelia

Stubbs

State Assembly

78

Lisa

Subeck

State Assembly

79

Alex

Joers

State Assembly

80

Mike

Bare

State Assembly

81

David

Considine*

State Assembly

82

Deborah

Davis*

State Assembly

84

Lu Ann

Bird

State Assembly

85

Kristin

Conway

State Assembly

87

Elizabeth

Riley

State Assembly

88

Hannah

Beauchamp-Pope

State Assembly

89

Jane

Benson

State Assembly

90

Kristina

Shelton

State Assembly

91

Jodi

Emerson

State Assembly

93

Alison

Page

State Assembly

94

Steve

Doyle

State Assembly

95

Jill

Billings

State Assembly

96

Jane

Swiggum

State Assembly

98

Christina

Barry

Brown County Clerk of Courts.

 

Megan 

Borchardt

Milwaukee Common Council

2

Mark

Chambers Jr.

Milwaukee Common Council

3

Jonathan

Brostoff

Kenosha County Clerk of Circuit Court

Kenosha County

Rebecca

Matoska-Mentink

Kenosha County Sheriff

Kenosha County

James

Simmons*




Dane County Sheriff



 

Dane Co.

Kalvin 

Barrett

Sauk County Sheriff:



 

Sauk Co.

Paul

Hefty

Iowa County Sheriff

Iowa Co.

Kim 

Alan

Belleville School District Referendum

Operational

Vote 

Yes

Cuba City School District Referendum

Operational and Capital

Vote 

Yes

Fort Atkinson School District Referendum

Operational and Capital

Vote 

Yes

Jefferson School District Referendum

Capital

Vote 

Yes

Lake Mills Area School District Referendum

Operational and Capital

Vote 

Yes

Middleton-Cross Plains School District Referendum

Operational

Vote 

Yes

Monroe School District Referendum

Capital

Vote 

Yes

Mount Horeb Area School District Referendum

Operational

Vote 

Yes

Oregon School District Referendum

Operational

Vote 

Yes

Parkview School District Referendum

Operational and Capital

Vote 

Yes

Platteville School District Referendum

Capital

Vote 

Yes

Stoughton Area School District Referendum

Capital

Vote 

Yes

Sun Prairie Area School District Referendum

Operational

Vote 

Yes

Verona Area School District Referendum

Operational

Vote 

Yes

Waterloo School District Referendum

Operational

Vote 

Yes

Waunakee Community School District Referendum

Operational and Capital

Vote 

Yes

Whitewater Belleville School District Referendum

Operational

Vote 

Yes

Adams-Friendship Area School District Referendum

Operational

Vote

Yes

Waupun School District Referendum

Operational

Vote

Yes

Wisconsin Dells School District Referendum 

Operational

Vote

Yes

Howards Grove School 

Questions 1 and 2 pertaining to funds for infrastructure and improvement

Vote 

Yes

Eau Claire Area School District 

Construction and Renovation

Vote 

Yes

Eau Claire City Public Safety Referendum 

 

Vote 

Yes