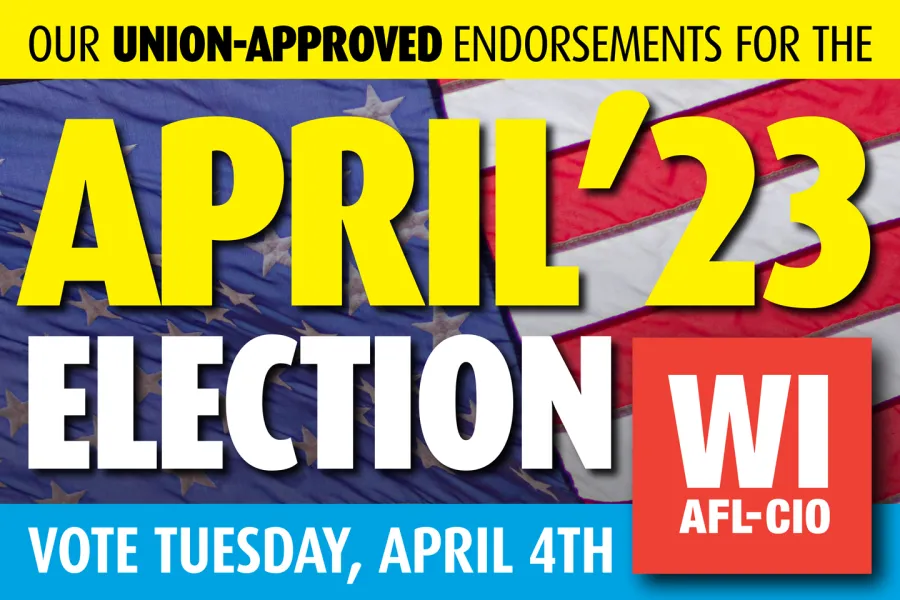 Wisconsin's Spring 2023 Election is Tuesday, April 4, 2023. 
View what's on your ballot at myvote.wi.gov.
Get involved with our member to member political mobilization program to talk with union members about the importance of voting for pro-union candidates at wisaflcio.org/mobilize and check back to this page for more endorsements.  
Wisconsin AFL-CIO Spring 2023 Election Endorsements  
*indicates candidate is a union member 
| | | | |
| --- | --- | --- | --- |
| Office | District | Endorsed | Candidate |
| WI State Supreme Court |   | Janet | Protasiewicz |
| Wisconsin Court of Appeals | District 1 | Sara | Geenen |
| Wisconsin Court of Appeals | District 4 | Chris | Taylor |
| Wisconsin State Senate | District 8 | Jodi | Habush Sinykin |
| Adams Friendship School District Operating Referendum |   |   | Yes |
| Adams Supervisor (Town of) |   | Peter | Herman |
| Altoona School Referendum |   |   | Yes |
| Appleton School Board | At-Large | Jason | Kolpack |
| Appleton School Board | At-Large | Nick | Ross |
| Appleton School Board | At-Large | Kristine | Sauter |
| Baraboo School Board |   | Amy | Delong |
| Baraboo School Board |   | Tim | Heilman |
| Baraboo School Board |   | Gwynne | Peterson |
| Beaver Dam City Council | District 9 | Monica | Keel |
| Beaver Dam Town Chair |   | Joe | Kern |
| Beaver DamTown Supervisor | District 4 | Liz | Kern |
| Belleville School Board |   | Katie | Woehrle |
| Belleville School Board |   | Jill | Remy |
| Belleville School Board |   | Ryan | Kubly |
| Cadott School Referendum |   |   | Yes |
| Cambridge School Board |   | Jen | Brown |
| Cameron School Referendum |   |   | Yes |
| Chippewa Falls City Council | District 5 | Heather | Martell |
| Columbus School Board |   | John | Pearson |
| Columbus School Board |   | Corey | Olson-Rappe |
| Cottage Grove Trustee |   | Heidi | Murphy |
| Cottage Grove Trustee |   | Sarah | Valencia |
| D.C. Everest School Board | At-Large | Yee | Leng Xiong |
| D.C. Everest School Board | At-Large | Corina | Norrbom |
| De Pere (Unified School District ) | At-Large | Wolf | Hendrichs |
| De Pere Common Council | District 3 | Mike | Eserkaln |
| De Pere Common Council | District 2 | Jonathon | Hansen |
| Eau Claire City Council President | At-Large | Emily | Berge |
| Eau Claire School Board | At-Large | Jarrett | Dement |
| Eau Claire School Board | At-Large | Lori | Bica* |
| Fitchburg City Council | District 3 | Jay | Allen |
| Fitchburg City Council | District 4 | Jim | Wheeler |
| Fitchburg Mayor |   | Randy | Udell |
| Grand Chute | District 3 (At-Large) | Beth | English |
| Green Bay Mayor |   | Eric | Genrich* |
| Green Bay School Board | At-Large | Lynn | Gerlach |
| Green Bay School Board | At-Large | Laura | McCoy |
| Green Bay School Board | At-Large | Noah | Becker |
| Hammond Village Referendums |   |   | Yes |
| Hammond Village Trustee | At-Large | Laurie | Gruber* |
| Holmen Village President |   | Patrick | Barlow |
| Howard President (Village of) | At-Large | J.D. | Kopp |
| Hudson School Board | At-Large | Heather | Logelin |
| Hudson School Board | At-Large | Megan | Rozowski |
| Hudson School Referendums |   |   | Yes |
| Hustisford Town Chair |   | David | Margelofsky |
| Kaukauna School Board | At-Large | Tracy | LyBoualong |
| Kenosha Unified School Board | At-Large | Yolanda | Santos-Adams |
| La Crosse City Council | District 1 | Tamra | Dickinson |
| La Crosse School Board | At-Large | Trevor | Sprague* |
| La Crosse School Board | At-Large | Jerry | Wacek |
| La Crosse School Board | At-Large | Jeff | Jackson |
| Lebanon Town Clerk |   | Debora | Behl |
| Ledgeview Trustee | At-Large | Sachin | Shivaram |
| Lowell Treasurer |   | Martina | Stanton |
| Madison City Council | District 1 | John W. | Duncan |
| Madison City Council | District 2 | Juliana | Bennett |
| Madison City Council | District 3 | Derek | Field |
| Madison City Council | District 4 | Michael | Verveer |
| Madison City Council | District 5 | Regina | Vidaver |
| Madison City Council | District 6 | Marsha | Rummel |
| Madison City Council | District 7 | Nasra | Wehelie |
| Madison City Council | District 8 | MGR | Govidarajan |
| Madison City Council | District 9 | Nikki | Conklin |
| Madison City Council | District 10 | Sheri | Carter (Dual Endorsement) |
| Madison City Council | District 10 | Yannette | Figueroa Cole (Dual Endorsement) |
| Madison City Council | District 11 | Bill | Tishler |
| Madison City Council | District 12 | Amani | Latimer Burris |
| Madison City Council | District 13 | Tag | Evers |
| Madison City Council | District 14 | Noah | Lieberman |
| Madison City Council | District 15 | Dina Nina | Martinez-Rutherford |
| Madison City Council | District 17 | Sabrina | Madison |
| Madison City Council | District 18 | Charles | Myadze |
| Madison City Council | District 19 | Kristen | Slack |
| Madison City Council | District 20 | Barbara | Harrington-McKinney (Dual Endorsement) |
| Madison City Council | District 20 | Matt | Phair (Dual Endorsement) |
| Madison Mayor |   | Satya | Rhodes-Conway |
| Madison School Board | District 6 | Blair | Feltham |
| Madison School Board | District 7 | Nicki | Vander Meulen |
| Marinette School Board | At-Large | Tom | Faller |
| Mayville School Board |   | Randy | Clark |
| Menomonie School Board | At-Large | Amy | Riddle-Swanson |
| Middleton City Council | District 3 | Katy | Nelson |
| Middleton Mayor |   | Emily | Kuhn |
| Middleton-Cross Plains | Area II | Bob | Green |
| Milwaukee Alderman | District 1 | David | Bowen |
| Milwaukee Municipal Court | Branch 2 | Molly | Gena |
| Milwaukee Public Schools School Board Director | At-Large | Melissa"Missy" | Zombor |
| Milwaukee Public Schools School Board Director | District 1 | Marva | Herndon |
| Milwaukee Public Schools School Board Director | District 2 | Erika | Siemsen |
| Milwaukee Public Schools School Board Director | District 8 | Megan | O'Halloran |
| Monona Grove School Board |   | Elizabeth | Cook |
| Monona Mayor |   | Kristie | Goforth |
| Montello School Board |   | Don | Lloyd |
| Neenah School Board | At-Large | Dr. Debra | Watry |
| Neenah School Board | At-Large | Rocky | Schafer |
| Neillsville School Referendum |   |   | Yes |
| New Glarus Board (Village of) |   | Gof | Thomson |
| New Glarus School Board |   | Cassandra | Ballweg |
| New Glarus School Board |   | Casey | McCoy |
| New Glarus School Board |   | Heather | Thornton |
| Oshkosh Common Council | At-Large | Karl | Buelow |
| Oshkosh Common Council | At-Large | Joe | Stephenson |
| Oshkosh Mayoral | At-Large | Aaron | Wojciechowski |
| Oshkosh School Board | At-Large | Adam | Bellcorelli |
| Oshkosh School Board | At-Large | Dr. Barb | Herzog |
| Outagamie County Executive |   | Tom | Nelson |
| Outagamie County Executive |   | Tom | Nelson |
| Pecatonica School Board |   | Mark | Hazlitt |
| Platteville School Board |   | Matt | Zielinski |
| Poynette School District Operating Referendum |   |   | Yes |
| Racine Alderperson | District 11 | Mary | Land* |
| River Falls City Council | District 3 | Alyssa | Mueller* |
| River Falls City Council | At-Large | Patricia | La Rue |
| River Falls City Council | District 1 | Sean | Downing |
| River Falls School Board | At-Large | Alison | Page |
| River Falls School Board | At-Large | Stacy | Myers |
| Saint Croix County Public Safety Referendum | Saint Croix County Public Safety Referendum |   | Support |
| Sauk Prairie School Board |   | Amy | Alt |
| Sauk Prairie School Board |   | Rich | Judge |
| Somerset School Referendum |   |   | Yes |
| Spring Valley School Referendums |   |   | Yes |
| Stevens Point City Council | District 3 | Ginger | Keymer* |
| Stevens Point City Council | District 5 | Allison | Birr |
| Stevens Point City Council | District 7 | Mary | Kneebone* |
| Stevens Point City Council | District 9 | Sam | Lang* |
| Stevens Point Mayor |   | Meleesa | Johnson |
| Stevens Point School Board | At-Large | Gee | Pope* |
| Stoughton City Council | District 3 | Lisa | Reeves |
| Stoughton School Board |   | Tim | Bubon |
| Stoughton School Board |   | Holly | Tellander |
| Sun Prairie School Board |   | Lisa | Goldsberry |
| Sun Prairie School Board |   | Katey | Komoku |
| Superior City Council |   | Darrell | Kyle |
| Superior School Board |   | Steve | Olson |
| Sylvester (Town of) | Second Supervisor | Davis | Schenk |
| Vernon County Circuit Court Judge |   | Angela | Palmer-Fisher |
| Verona School Board |   | John | Porco |
| Verona School Board |   | Korbey | White |
| Waunakee School Board |   | Dawn | Heinrichs |
| Waupun School Board |   | Steve | Chene |
| Wausau School Board | At-Large | Gillian | Battino |
| Wausau School Board | At-Large | Lance | Trollop |
| Wausau School Board | At-Large | Fred | Tealy |
| Winnebago Couny Circuit Court Judicial | Branch II | LaKeisha | Haas |
| Wiota (Town of) Supervisor |   | Ryan | Rygh |
| Wiota (Town of) Supervisor |   | John | Fox |
| Wiota (Town of) Chair |   | Steve | Tuescher |
| York (Town of) | First Supervisor | John | Knicker |
| York (Town of) | Second Supervisor | April | Prusia |