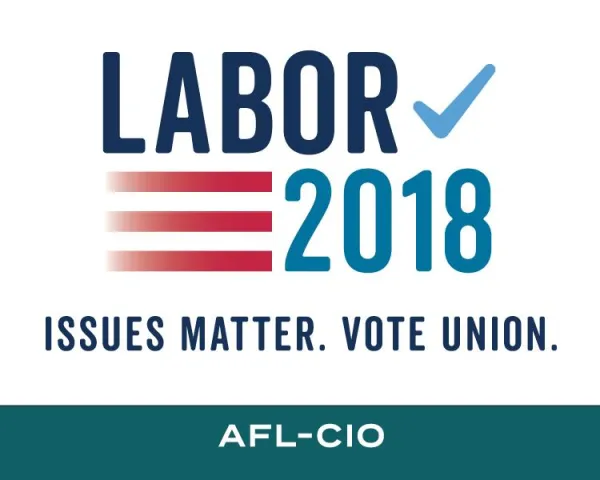 Join Wisconsin union members in the final days before the November 6 election as we knock on doors and make phone calls to talk to other union members about the importance of voting for candidates who will support the rights of working people. Stop into one of our union family Labor 2018 volunteer locations below! 
Click here for a flyer link for schedule. 
Milwaukee Office: Phones and Doors
Contact: Emily Mueller, 414-745-8343, emueller@wisaflcio.org
Walks - Milwaukee Area Labor Council, 633 S. Hawley Rd. Milwaukee Saturdays at 10am
Phone Banks - WI AFL-CIO, 6333 W Bluemound Rd, Milwaukee
Thursday, November 1:  

9am-8pm

Friday, November 2nd: 

9am-8pm

Saturday, November 3rd: 

9am-8pm

Sunday, November 4th: 

1pm-8pm

Monday, November 5th: 

9am-8pm

Tuesday, November 6th: 

9am-8pm
Madison Office: Phones and Doors
Madison Labor Temple, 1602 S Park St., Office Phone: 608-733-9258 Contact: Kim Moon, 608-733-9258, kim_moon@ibew.org or Elizabeth Trevino, 715-304-9807, etrevino@aflcio.org.
Thursday, November 1st: 

9am-8pm

Friday, November 2nd: 

9am-8pm

Saturday, November 3rd:

9am-8pm

Sunday, November 4th

1pm-8pm

Monday, November 5th

 9-8pm

Tuesday, November 6th

 9am-8pm
Horicon Office 
258 Barstow St. Horicon WI 53032
Contact: Yolanda Pillsbury, 920-382-2553, ypillsbury@gmail.com
Thursday, November 1st: 

9am-6pm

Friday, November 2nd: 

 9am-6pm

Saturday, November 3rd: 

10am-8pm

Sunday, November 4th:

1pm-8pm

Monday, November 5th: 

9am-8pm

Tuesday, November 6th: 

9am-8pm
Racine Office 
Racine Labor Temple, 1840 Sycamore Ave., Racine, WI
Contact: George Petrovich, 847-302-1344, natcagp@aol.com
Thursday, November 1st: 

9am-8pm

Friday, November 2nd: 

9am-8pm

Saturday, November 3rd: 

9am-8pm

Sunday, November 4th:

1pm-8pm

Monday, November 5th: 

9am-8pm

Tuesday, November 6th: 

9am-8pm
Kenosha Office 
United Auto Workers Local 72, 3615 Washington Rd., Kenosha, WI
Contact: George Petrovich, 847-302-1344, natcagp@aol.com
Thursday, November 1st: 

9am-8pm

Friday, November 2nd 

9am-8pm

Saturday, November 3rd 

9am-8pm

Sunday, November 4th 

1pm-8pm

Monday, November 5th 

9am-8pm

Tuesday, November 6th

9am-8pm
USW District 2: 1244 Midway Rd, Menasha
Contact: Sabrina Johnson, 715-572-5660, sjohnson@wisaflcio.org
Thursday, November 1st 

9am-8pm

Friday, November 2nd

9am-8pm

Saturday, November 3rd 

9am-8pm

Sunday, November 4th

12pm-6pm

Monday, November 5th 

9am-8pm

Tuesday, November 6th

6th 9am-8pm
Green Bay Office
IUOE 420: 1250 Radisson Street, Green Bay WI
Contact: Sabrina Johnson, 715-572-5660, sjohnson@wisaflcio.org
Thursday, November 1st 

9am-8pm

Friday, November 2nd 

9am-8pm

Saturday, November 3rd

 9am-8pm

Sunday, November 4th

12pm-6pm

Monday, November 5th 

9am-8pm

Tuesday, November 6th 

9am-8pm
Sheboygan Labor Temple: 1104 Wisconsin Ave., Sheboygan WI
Contact: Sabrina Johnson, 715-572-5660, sjohnson@wisaflcio.org
Thursday, November 1st 

9am-8pm

Friday, November 2nd 

9am-8pm

Saturday, November 3rd

 9am-8pm

Sunday, November 4th

12pm-6pm

Monday, November 5th 

9am-8pm

Tuesday, November 6th 

9am-8pm
Eau Claire Office
Eau Claire Labor Temple, 2233 Birch St, Eau Claire
Contact: Andy Thompson, 715-456-4113, athompson@wisaflcio.org
Thursday, November 1st 

9am-8pm

Friday, November 2nd 

9am-8pm

Saturday, November 3rd 

9am-8pm

Sunday, November 4th

1pm-8pm

Monday, November 5th

 9am-8pm

Tuesday, November 6th 

9am-8pm
IAMAW District 66 ("Machinists' Hall"), 1307 Market St, La Crosse
Contact: Andy Thompson, 715-456-4113, athompson@wisaflcio.org
Thursday, November 1st 

9am-8pm

Friday, November 2nd 

9am-8pm

Saturday, November 3rd 

9am-8pm

Sunday, November 4th

1pm-8pm

Monday, November 5th 

9am-8pm

Tuesday, November 6th

 9am-8pm
Superior Office
International Longshoremen's Association (ILA Hall) 424 Tower Ave, Superior
Contact: Judy Hack, 218-391-6116, judithahack@yahoo.com
Thursday, November 1st 

10am-7pm

Friday, November 2nd

 10am-7pm

Saturday, November 3rd 

10am-7pm

Sunday, November 4th

12pm-7pm

Monday, November 5th 

10am-7pm

Tuesday, November 6th 

10am-7pm