House Takes Action for Working People with Passage of PRO Act, Senate Must #PassthePROAct to Restore Balance to Our Economy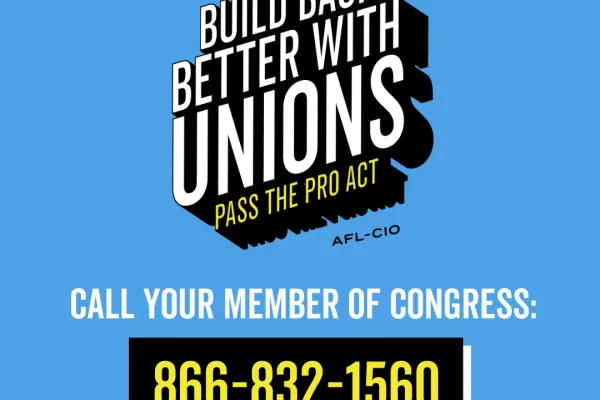 (March 9, 2021, MILWAUKEE, WI) – Stephanie Bloomingdale, President of the Wisconsin AFL-CIO, released the following statement as the House passes the Protecting the Right to Organize (PRO) Act, one of labor's top priorities to restore fairness to our economy and protect a worker's right to a union:
"Working people turned out in droves to vote for leaders who will see us through this pandemic by prioritizing worker rights, fair wages, and workplace safety," said Stephanie Bloomingdale, President of the Wisconsin AFL-CIO. "Today, the House took action to rebuild America's middle class by reaffirming the right of working people to organize. The PRO Act is a generational opportunity to bring fairness to our economy by changing the power dynamics in America to give working people a real say in our future. Unions and collective bargaining build and maintain the strong middle class on which our collective prosperity rests. President Biden has called on Congress to send the PRO Act to his desk for signing. The American people agree:  we must build back better with strong unions."
The PRO Act will empower workers to exercise our freedom to organize and bargain; help workers reach a first contract after a union is recognized; hold corporations accountable for union-busting; repeal so-called right to work laws that lead to lower wages, fewer benefits and more dangerous workplaces; and create pathways for workers to form unions, without fear.
Thank you to House members of Wisconsin's Congressional delegation Rep. Gwen Moore, Rep. Ron Kind, and Rep. Mark Pocan for standing with workers by co-sponsoring and voting for the PRO Act.